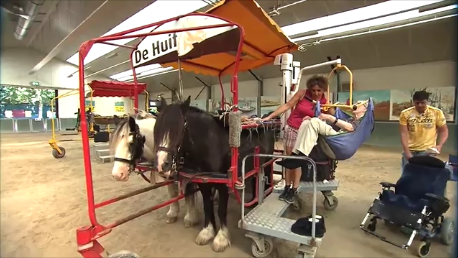 Donation Goal For This Project is
£8,000
Donate Now
Mrs. Jacobs is an 87 years old lady and would like to go horse riding just one more time.
See the effect on her face at the end. It was made in the Netherlands but you don't need to translate!
We would love to provide this service and with your help we can.
We just need the equipment for our volunteers and horses to train on.
Most of our volunteers already work in the care sector.
Horseback-bed riding is a method of riding in which clients, often persons suffering from multiple disabilities, lie in a type of hammock that rests on the horses' backs. The movement of the horses and their warmth massages the clients' bodies, improving their circulation and helping them to relax completely. As a result, their bowel function improves, they may have fewer epileptic seizures, and their lungs are cleared of mucus. The great advantage of horseback-bed riding as a form of therapeutic exercise is that the client moves without anyone touching him or her. The rides last approximately thirty minutes.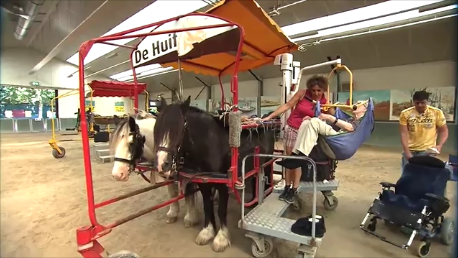 Donate today and make this dream come true for many more people
who just want to experience what this lady has.
Thank you