The Racehorse Rescue Centre is grateful for the awards and recognition it receives from around the world since it started in 2010 and became a registered charity in 2013. As our reputation builds we will share our success with you here. Thank you to all who support our cause and recognise the hard work and commitment the volunteers do to make this charity a success.
We at how-to-train-a-horse.org truly admire those who dedicate time out of their lives towards helping horses. As many people know, healthy horses require large amounts of time and money, but only few know that the horses sent to rescues and shelters don't need just time and money, but also need a loving family to reverse years of abuse and neglect. Without horse rescues like the Racehorse Rescue Centre, countless horses would not get the care they need and many horses may have never found happiness. Because of this we wanted to show our appreciation towards your volunteers for not only saving horses lives but also for improving the quality of life for many horses. So we are pleased to present the Racehorse Rescue Centre with our Horse Rescue & Relief Award. We thank you for all the time and hard work your organization provides for horses in need. We understand what a difficult task this can be and hope that this token of our appreciation will show you how much you really are appreciated.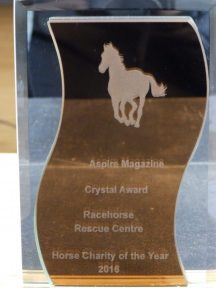 Aspire Magazine 2016 Horse Charity of the Year
We are delighted to award our 'horse charity of the year 2016' to the Racehorse Rescue Centre Reg. Charity No 1150864 in recognition of the dedication it has shown and innovation in new ideas that others are now following.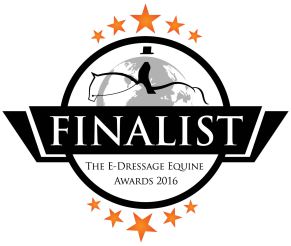 The E-Dressage Social Media Award 2016 
"There is nothing else like these awards in the industry," said Roseanna Sunley, Director and Founder of E-Dressage Ltd, which hosts the Equine Awards. "As we all know, success in any sector of the equine world does not come easy! We wanted to celebrate the hard work and dedication that all of these companies and individuals put in to build their achievements, and could think of no better way to do so than in creating these awards.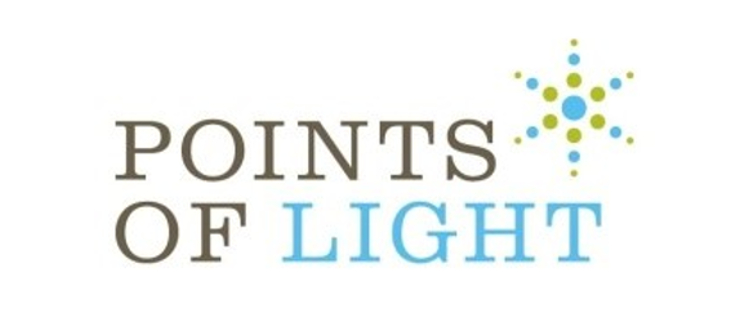 Point of Light Award 2017 from the Prime Minister for the work we do for the community and horses
In a personal letter Prime Minister Theresa May said:
"The innovative programmes you offer at the 'Racehorse Rescue Centre' are providing unique opportunities for those who would not otherwise have access to these experiences. Your centre is changing the lives of vulnerable people across the country, while providing a safe and secure environment for rescued horses."
On receiving the award, Nigel Wood, founder of Racehorse Rescue Centre said:
"This is a great honour to receive the Point of Light Award on behalf of all the volunteers past and present who have helped build the foundations of the charity. Without their dedication and commitment we would not be where we are today. By inspiring young people to achieve their dreams, through our free programmes using former racehorses and the continued support from the community, we will continue to grow. Thank you."