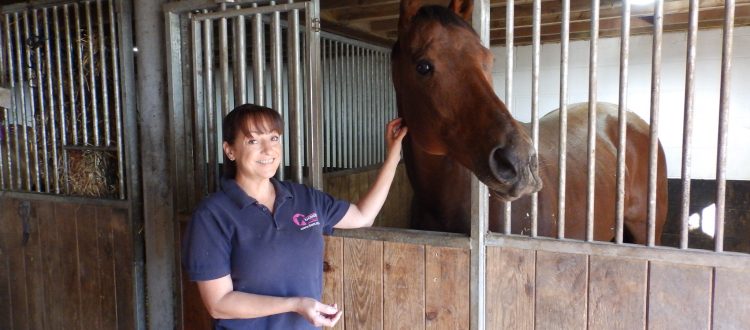 Wayne Rooney's former racehorse, Switcharooney arrives at RRC
A racehorse previously owned by former England captain Wayne Rooney has undergone surgery to remove a Keratoma, funded by the Retraining of Racehorses (RoR) and Racehorse Rescue Centre (RRC) who will continue to fund his recovery.
Switcharooney, ran six times for the striker before he was retired. However, despite its disappointing form under rules, Switcharooney has a promising career after being taken in by the Racehorse Rescue Centre in Cumbria.
The animal, which had been living up until recently at a stables owned by Wayne's business manager Paul Stretford, was then given to a member of staff who was then due to care for the horse. However, when the horse required surgery, the new owner, who had only owned the horse a couple of weeks and was made unemployed by Switch's owner when he was given to him and could no longer honour his commitment to pay for its treatment, contacted us who then arranged for emergency surgery to take place.
The surgery could cost in the region of £2,500 according to the charity's founder Nigel Wood.
He said the horse, which is seven years old, had developed a Keratoma, which can be incredibly painful if untreated.
The horse required treatment for a Keratoma on its front right hoof but is expected to make a full recovery
We received the horse on Thursday and everything has gone well. Our volunteers have to change the dressings every other day and our Vets, Frame Swift and Partners from Penrith are due to visit next Friday.
It's going to be a slow process, but Switcharooney is still a young horse and the prognosis is very good. He has a very calm nature and is a well-mannered horse.
After he has recovered, he has a great future ahead of him. We do Equine Therapy, which helps build up self esteem, involving people such as veterans and school children to work with horses. 'We would also hope he could be used in eventing as well in the future.
The charity recently was recognised by prime minister Theresa May for the work it does for the community and the care it gives its horses.
We don't think Wayne would be aware of what happened to Switcharooney, but he will make a full recovery and we would welcome his support and involvement with Switch and his future.
We also offer free accommodation if you want to spend a week with us working with the horses as a volunteer or for work experience. It is very rewarding.
Anyone who would like to help can Contact Us
---
A spokesman for Wayne Rooney and his business manager Paul Stretford said: 'Switcharooney no longer belongs to Wayne and Coleen.
When his racing career ended four years ago Switcharooney was transferred – in December 2013 – to stables which were, until recently, owned by Wayne's business manager Paul Stretford. There he was put into the care of stable manager Andy Brooks. He was lovingly cared for and all necessary veterinary and other bills were paid in full.
'He remained there until August 2017 when the stables were sold.
'At that point Mr Brooks asked, in recognition of his service and the special bond between him and the horse, that Switcharooney was given to him.
'He gave full assurances that he would continue to care for him and would pay any necessary veterinary bills.
'Neither Wayne nor Paul was aware, when the horse was gifted to Mr Brooks, that he would – within weeks – present him at a charity.'